The following are some of the guides available at Ken's Anglers for guided trips. We also have part time guides available who are not listed here.
For more information about our guides and guided trips, please give us at (303) 501-5247, or e-mail us at: ken@kens-anglers.com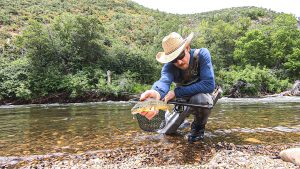 I have been in Colorado for 24 years now and truly enjoy exploring all that the state has to offer, especially with a fly rod in hand. Fly fishing had only been something that I dabbled in during my youth, jumping from creek to creek throughout the mountains of Wyoming, to landing my first 18″ Brown on a Royal Wulff dry fly during our first summer in Colorado. I did not understand that those moments would come around full circle until June 2017. I was several years into my battle with Lyme Disease that I contracted from a tick bite in 2013.
While clearing out the garage I came across my old fly rod and a dusty box of flies. Fly fishing was calling once again. It took several trips to Decker's before I was able to push the mental fear aside and take on the outdoors again. The freedom that came from taking that first step down a well-worn path through the lush green willows was priceless. Later on, that day I hooked into my first Decker's Brown on a Royal Wulff dry fly. It was a gift from the outdoors. The mental traps of being a chronically ill individual washed away immediately after releasing that Brown back to its home. Ever since, I've dedicated myself to refining my own personal fly-fishing skills to share with my kids and others. Guiding offers the opportunity to show others firsthand the unlimited benefits that come with the sport of fly fishing.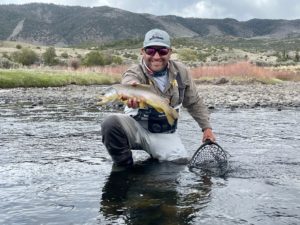 Originally hailing from San Antonio, I grew up fishing the gulf coast and lakes of southwest Texas. After my military career was cut short, and with the help of some fantastic people my family and I set our roots in Denver. Upon arrival I was introduced to the local chapter of Project Healing Waters. I was fortunate enough to learn most of my fundamentals under the supervision of some truly talented anglers. The skillset that I put together over the years since allows me to be successful in a variety of conditions. I hunt fish throughout the state of Colorado and I'd love to show you what I've learned so far.