The following are some of the guides available at Ken's Anglers for guided trips. We also have part time guides available who are not listed here.
For more information about our guides and guided trips,
please give us at (303) 501-5247, or e-mail us at: ken@kens-anglers.com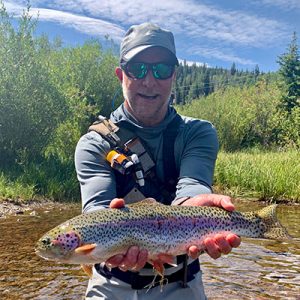 Pete grew up in central New Jersey, where he found his passion and honed his fishing skills on the lakes, rivers, and the surf on the Jersey shore. He made his way to the University of Colorado in Boulder, where he graduated with a degree in Journalism and never looked back.
Spending over 120 days a year with a fly rod in his hands, Pete enjoys fishing for both fresh and saltwater species. But it's the Colorado freestones and tailwaters where he spends most of his time. Whether guiding, teaching, at his tying bench, or fishing, Pete is a passionate advocate for Fly Fishing as well as the environments where we fish. When guiding, his focus is on having fun while teaching skills and providing a great experience on the river.
When not on the water, Pete is a marketing, design, and web development consultant. He and his wife live in Denver, where they raised two children. Pete is also an avid tennis player and enjoys playing guitar with his friends.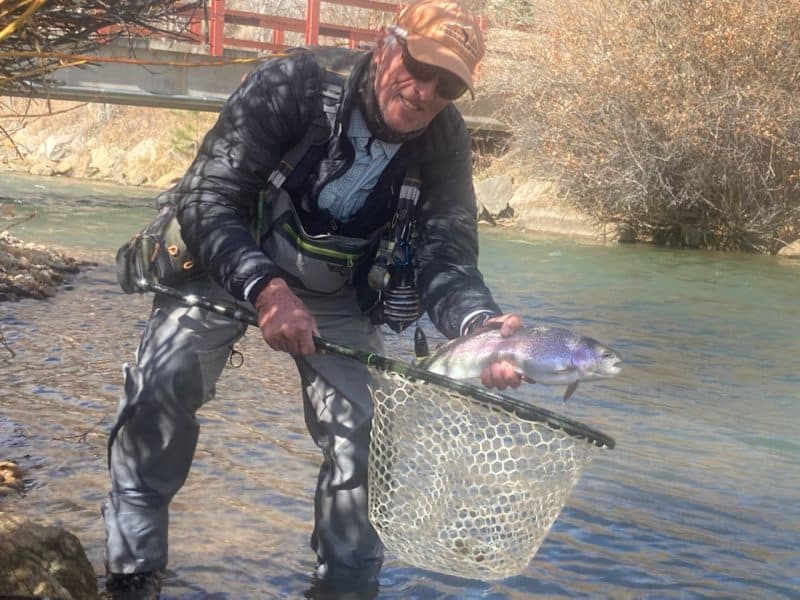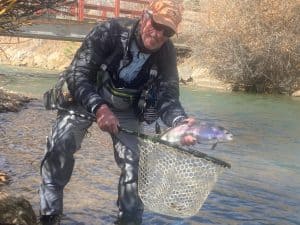 I am a self-taught fly fisherman who grew up under the bright lights of the big city, Chicago. Now living in Colorado the last twenty plus years fly fishing has been more to me than just a weekend hobby. The sport has become the staple that most my life revolves around, now that I'm retired. I have for the past several years been a fly fishing owner/guide (Utah and Colorado) for private clients and teaching classes. Fly fishing for wild trout in Colorado's rivers, streams and creeks is what I enjoy the most. I like being able to get away from the hustle and bustle of the city for a day to explore the breathtaking river scenery. The grace of fly fishing is something that I have always loved. The simple fact that you have a chance of hooking into a trophy trout is just icing on the cake to enjoying the wilderness and meeting new clients.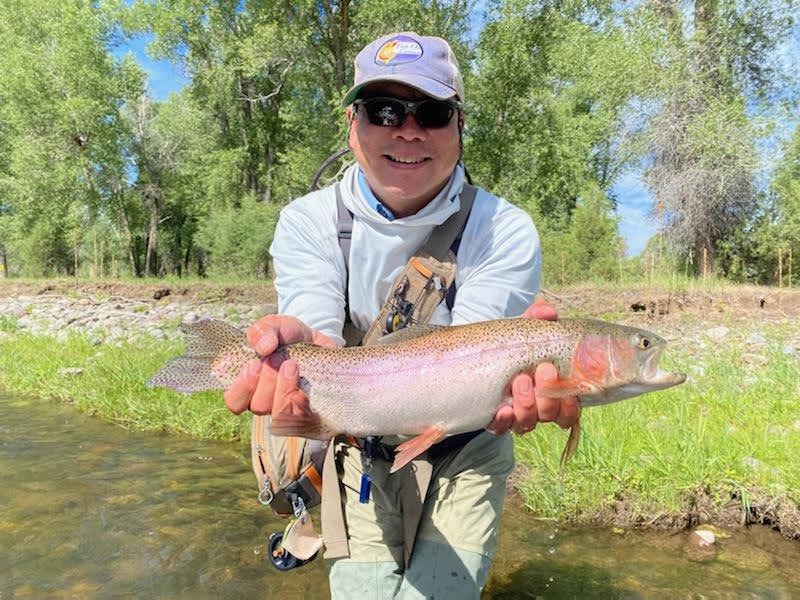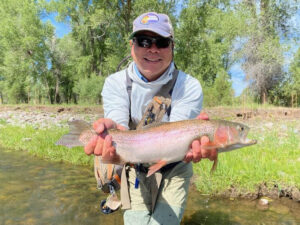 Fair warning! If you go on a trip with me, I may get more excited about you catching a fish than you are. Since discovering this amazing sport, I have evolved in many ways. From the thrill of catching fish for myself to the thrill of watching others catch fish, I have evolved my fishing. I learned the hard way, definitely getting tangles, taking forever to rig my gear, falling in the water, and getting skunked. Then, I had a friend, stand beside me and show me. Patiently, and with great care, my friend slowly coached me into the nuances of the sport to where I could catch fish. My desire is to see you evolve in the sport, and maybe you will be jump out of your waders like I do when someone else catches a fish.
I have been fly fishing consistently for the past 8 years. Before, it was a few times a year but now, if I'm not guiding, I'm taking friends and neighbors fishing almost every weekend. I love nymph fishing but I have been perfecting my technique in Euro Nymphing. This technique is used in competition fly fishing because it is really effective. I wanted my journey in fly fishing to continue to grow and expand and Euro Nymphing was the next logical path. If you have been fishing for a while, and are pretty good at fishing, I highly recommend giving Euro a try.
I am a management consultant in tech and have lived in Colorado in the early days when it was affordable. I love to laugh and enjoy seeing people have a good time. I have been married 29 years, have 3 amazing adult kids and love having a sandwich on a rock in the river.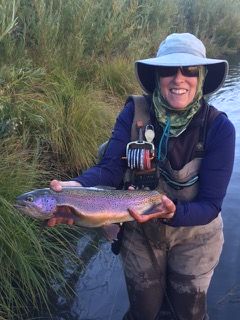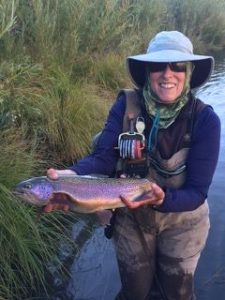 Celia is passionate about fly fishing and likes sharing her love of the sport with others. She travels and camps all around the state fly fishing and ties her own flies.